Capability

This large project consists of 65 rooms, restaurants and spa with a touch of Thai style. Luxurious, distinctive and unique, its design is exquisitely detailed and could only be realized with the skill of master artisans. The project is located on a beautiful, yet challenging, hillside overlooking the ocean, where guests can enjoy limitless views of the sea. Kanok's project management and coordination skills were key to the success of this difficult project, where strict timelines , obstacles such as unpredictable weather, and difficult terrain all combined to create extreme challenges.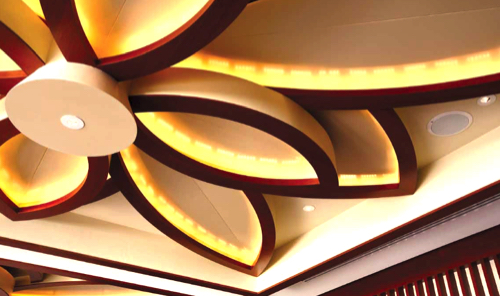 Flowery Decorative Ceiling Panel
Behind the delicate details of the flowery decorative ceiling panels is a framework made of lightweight steel, designed to be durable, strong, and long lasting. This ceiling has a multi-layered look, created by overlapping layers of decorative lighting for an eye-catching visual effect. The production and assembly of the specialized moldings requires meticulous craftsmanship in the production of shop drawings, plus a careful planning execution in all stages of production.
The intricately patterned curved wall design requires years of experience and know how to produce, beginning with organizing key details and constructing precise mock ups before actual construction.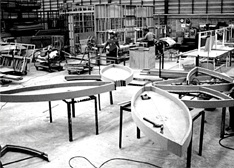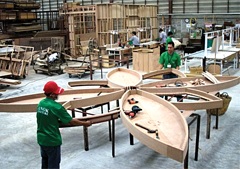 Production Flowery Decorative Ceiling Panel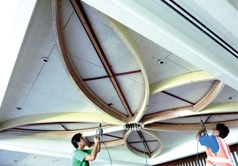 All timber and metal components are inspected to eliminate any imperfections before fabrication in order to ensure the highest quality and time efficiency. All production and finishing is completed before installation on site by our expert technicians.
The beautiful flowery decorative ceiling is the result of a sophisticated design and complex production process. It embodies Kanok's refined skills and special techniques. The design adds a sense of softness to the ceiling and is complemented by lighting effects.